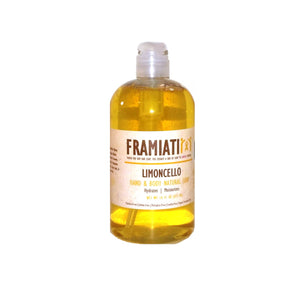 Select your FRAMIATI scent and we'll add it to our liquid soap base.  Our handcrafted body washes are phthalate-free, dye-free, paraben-free and highly-scented. Packaged with a pump dispenser.
INGREDIENTS: Water, Potassium Oleate, Potassium Cocoate, Glycerin, Potassium Citrate, Citric Acid, and Essential Oils.
For each bottle that we sell, FRAMIATI donates a bar of soap. In 2018, we are donating our soap to the American Cancer Society Hope Lodge in New York City.